click on the pictures to get
full size 300 dpi file: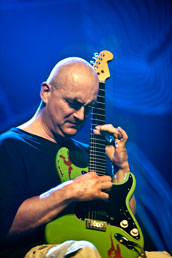 2MB     photo by Marcel Meier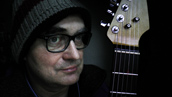 7MB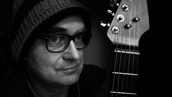 5MB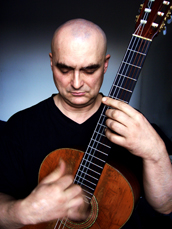 2MB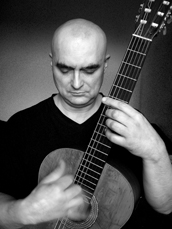 2MB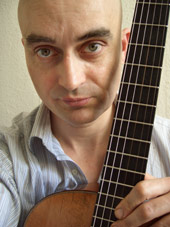 21MB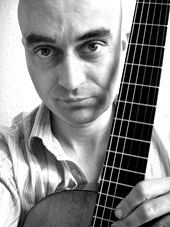 21MB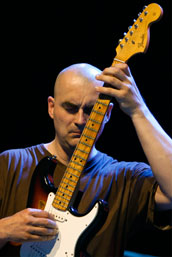 10MB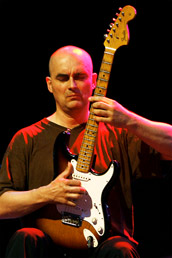 4MB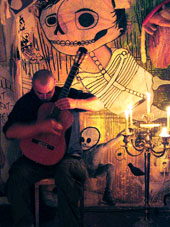 24MB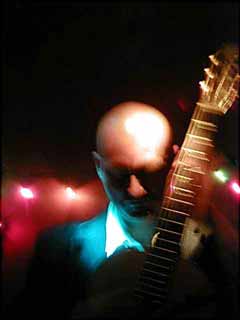 3MB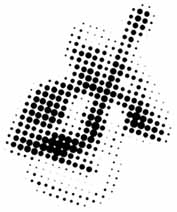 722KB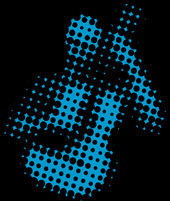 400KB
>> info PDF >>
Olaf Rupp (*1963) plays Improvised Music on the acoustic and electric guitar. The organic flow of his music is guided neither by chance nor by dominant, willful decisions. To him the same level of focus and attentive energy should be present in loud and fast music as well as in softer, more subdued kind of playing. In all his music he explores how motion-clusters can be perceived as one agglomerated sound in motion. This means that every note is a dot in a higher matrix and its color is more important than the position of that note in any hierarchic classification system. So a sequence of notes creates a moving sound, not a melody. And the intrinsic color of every note is more important than the melodic or harmonic burden which the listener may or may not put on it.
Besides many cooperations five solo albums are published so far on the labels FMP, RELATIVE PITCH, GROB and GLIGG. Olaf Rupp has been touring in many countries and performed with extraordinary musicians such as Paul Lovens, Tristan Honsinger, Peter Brötzmann, Butch Morris, Lol Coxhill, John Zorn und Tony Buck. He is an outstanding solo performer both on electric and acoustic guitar. Important groups are among others XENOFOX, his duo with Rudi Fischerlehner, a Duo with cello player Ulrike Brand, and WEIRD WEAPONS with Tony Buck and Joe Williamson. www.audiosemantics.de
discography:
THREE STORIES..., Paul Rogers-Olaf Rupp-Frank Paul Schubert, relative pitch records, New York, 2018
CLOSEUPS, Olaf Rupp acoustic guitar solo, audiosemantics/bandcamp, 2018
RRR, Ernesto Rodrigues-Guilherme Rodrigues-Olaf Rupp, creative sources, 2018
SHADOWSCORES, Duo Brand-Rupp, creative sources records, 2015
ARGYROMANIA, Die Dicken Finger, GLIGG records, 2016
Live at Lydfestival Aarhus, Farai records, 2015
EVIL FINGERS, GLIGG records 2014
TAM, notaplicable, London, 2013
STRALAU, Softrecords, Rumania, 2013
AULDLANGSYNE, GLIGG records 2012
OFFROAD CORE, GLIGG records 2012
TINGTINGK, GLIGG records 2012
TWO SIDES OF A COIN, GLIGG records 2012
PHUGURIT, GLIGG records 2012
WEIRD WEAPONS 2, Creative Sources 2011
STRETTO, FMP, 2010
OLJONEK, audiosemantics, 2010
FASANE HULA PUNK, HerbalRec, 2009
TOOMUCHISNOTENOUGH, FMP, 2009
WHITEOUT, solo, FMP, 2009
THE SPECTER OF GENIUS, Jazzwerkstatt, 2009
NOOMISSO, kootown, Japan, 2008
TWELVE'S, setoladimaiale, 2008
FRETBOARD MINER, audiosemantics 2006
WEIRD WEAPONS, emanem 2005
ROSTOCK, meta records 2004
NOBODYS GARDEN, tu-m.com 2004
BERLIN STRINGS (compilation) absinthrecords.com 2003
TENSILE (compilation) Michael Farley 2003
KERNEL PANIC, musica genera 2003
SCREE, GROB 2002
vinyl 7" EP, happyzloty 2002
LIFE SCIENCE, FMP 2000
BEASTIESHOPBEACH, GROB 1999
MAI, SIEBEN 1999
SEPTEMBER, GROB 1998
BEASTIESHOPBEACH, GROB 1998
STOL, Kitty-Yo 1998
BUTCH MORRIS BERLIN SKYSCRAPER, FMP 1998
SEMIPRIMAVISTA, Algen 1996
SILKE ARP BRICHT MINIATUREN, n.UR-KULT 1994